LODGING RATES & POLICIES
Prime Season (June 26 to September 7) 3 night Minimum

Room
Sleeps
Weekday
Weekend
HOLIDAY*
Weekday
HOLIDAY*
Weekend
Mon/Tue/Wed/Thurs (Per Night)
Friday/Saturday/Sunday (Per Night)
Mon/Tue/Wed/Thurs (Per Night)
Friday/Saturday/Sunday  (Per Night)
2
2
360
480
500
650
4
2
430
600
675
900
5 (APT B)
4
500
720
750
1000
6 (APT A)
4
670
800
900
1150
Spa Room
2
900
1000
1200
1500
*Note: Holidays include:
Memorial Day: May 22, 23, 24 and 25
4th July: Weekdays July 1, 2, 7 and Weekend July 3, 4, 5, and 6
DRA Weekend: TBD
Pines Party: July 24, 25 and 26
Labor Day: September 3, 4, 5, 6 and 7

NEW Shoulder Season (May 22 to June 25 and September 8 to September 30) 2 Night Minimum
Room
Sleeps
Weekday
Weekend
Mon/Tue/Wed/Thurs
(Per Night)
Friday/Saturday/Sunday
(Per Night)
2
2
250
350
4
2
300
400
5 (APT B)
4
350
500
6 (APT A)
4
400
550
Spa Room
2
650
750
Off Season (April 1 to May 21 and October 1 to 31) 1 night Minimum
Room
Sleeps
Weekday
Weekend
Mon/Tue/Wed/Thurs
(Per Night)
Friday/Saturday/Sunday
(Per Night)
2
2
175
250
4
2
200
325
5 (APT B)
4
275
360
6 (APT A)
4
300
425
Spa Room
2
500
700
THE COMMUNITY OF FIRE ISLAND PINES and The Pines Bluff Overlook is an exclusive private property where every guest's reservation is both important and special to us. We make every effort to provide a unique Fire Island Pines experience for each guest's interests. Our one prevailing overarching policy is that each guest respect the comfort, enjoyment and privacy of other guests in the house. Similarly, we treat person's room as being their individual sanctity with total privacy.

BOOKING

We are open April15th to November 1st, Prime Season is June 15th to Labor Day. Holidays and Special Event weekends carry a premium (Holiday Rates). Prime Season requires a minimum of a 3-night stay, and we extend a 10% discount for weekly stays. Please refer to our pricing schedules since each room is unique with it's own pricing variations.

All reservations are booked with a 50% deposit, the remaining balance is due 30 days in advance of your stay and will be automatically charged to your credit card on file. This will enhance your easy hassle-free check-in which often occurs during the busy part of our innkeepers day. We will make arrangements for you to get into your room even if we are not on the property at the moment you arrive, or if you arrive early. If for some reason the remaining 50% payment can not be made, the reservation will be subject to cancellation and policies of less than 30days cancellation will apply.

Upon booking, if there is less than 30 days to your stay, full payment is due.

We accept American Express, Visa and Master Cards. We prefer credit card payments please. All credit card refunds and cancellations are subject to 10% fee. Rates/policies are subject to change and vary during high impact periods and when special requests are being filled.

CANCELLATION POLICY
If your travel plans change and you must cancel your reservation, please call us at least 30 days prior to your arrival date to cancel your reservation. A refund will be issued for your deposit less 10% cancellation fee.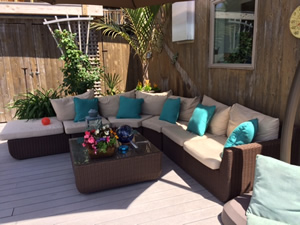 In the unlikely event that you must cancel with less than 30 days notice, shorten your stay or check out early, please understand that we must ask you to take responsibility for your entire reservation. If we can rebook your room(s), a full or partial refund will be made less 10% rebooking or cancellation fee.

CHECK-IN AND CHECK-OUT TIMES
Check-in: 3:00 PM - 6:00 PM. If arriving outside of check-in times, please call to make arrangements, otherwise time of arrival made at booking will apply. No refunds will be issued for late or missed check-ins.

Check-out: 11:00 AM. Unless other arrangements are made, the room will be cleared for cleaning and preparation for the next guest. However, you are welcomed to enjoy the house for the entire day of arrival and departure with use of the house shower and bathroom facilities, towels will be provided.
HOUSE RULES
• We are an adult bed and breakfast for people 18 and older.
• The primary rule of the house is to respect the house, other guests, and our neighbors. Please ensure no excess noise carries beyond your room and to a minimum in areas outside.
• There is no Smoking allowed in the house. Designated outdoor smoking areas are available.
• Pets under 25 pounds are allowed in Apartment B with approval from the innkeeper.
• Occupancy per room/unit is limited to 2 people. Apt A and Apt B can accommodate 2 additional guests for a fee of $25/night/person and must be registered with your booking. This fee will also be applied to your non-reserved guests. All guests of Pines Bluff Overlook must be 18 or older. Exceptions must have prior approval at time of booking.
• We reserve the right to refuse booking to any person, and cancel bookings at time of check-in or evict guests due to inappropriate behavior and not adhering to any of the above policies.